Discover more from alpha please
Alpha from the world of crypto
Over 12,000 subscribers
5 Alpha Tweets - Ethereum Gas Guzzlers, The Greatest NFT Trade & More
Edition 32
Welcome to the alpha please newsletter. I curate five alpha tweets every Friday; that's it, that's the newsletter.
It's been an action packed week: The Ethereum Merge has an approximate date (15/16 September), Blackrock will be offering direct Bitcoin exposure to their clients, Tornado Cash has been sanctioned and a related dev has been arrested…
We've had a wave of green candles in recent weeks, which I'm sure has lifted the spirits of many. But more importantly, there is always alpha on the timeline.
---
1. What can we learn from Ethereum gas consumption?
Looking at the top gas guzzlers allows us to understand which categories, use cases and narratives are really unfolding on Ethereum.
---
2. The Guide to Cosmos
A very helpful deep dive into Cosmos.
---
3. Reflections from a trader
Nakamotolisk analyses their mistakes over the last quarter and provides some very helpful thoughts for all traders.
---
4. Nansen alpha strategies
Wayne breaks down how to get the most out of Nansen.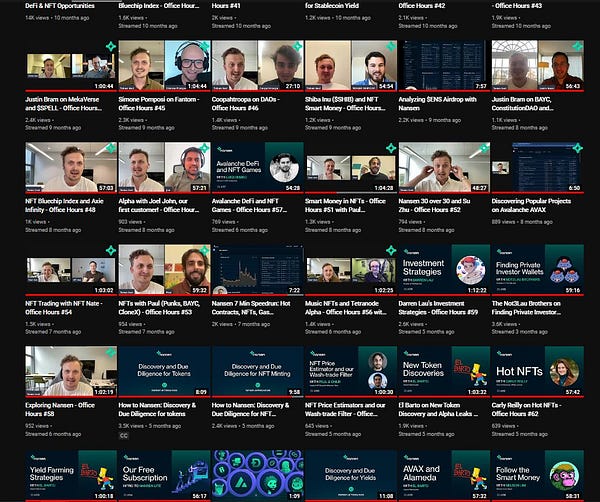 ---
5. What you can learn from the greatest NFT trade
An amazing story of conviction and diamond hands, but most importantly Spencer provides some real tips and tools for creating an NFT strategy that might just see you make your own legendary trade.
---
@alpha_pls tweet of the week
This week has seen a new attack on privacy. It is just the start of a long fight to ensure blockchains can offer the world the same financial privacy that the most privileged individuals currently enjoy.
---
And that's your alpha.
Thanks for reading alpha please! Subscribe for free to receive new posts and support our work.
---
If you are looking to trade on-chain, we're big fans of GMX.
Use our referral link to get a 10% rebate on fees: gmx.io/?ref=alphaplease
---
Not financial or tax advice. This newsletter is strictly educational and is not investment advice or a solicitation to buy or sell any assets or to make any financial decisions. Do your own research.
---